Dominica Duckworth is a school teacher, stand up comedian and tidy brat who lives for drama. Follow her yelling about wrestling @wehaveallgotknives.
This is Part 1 of a multi-part series on wrestling and utopia. Read Part 2 here.
---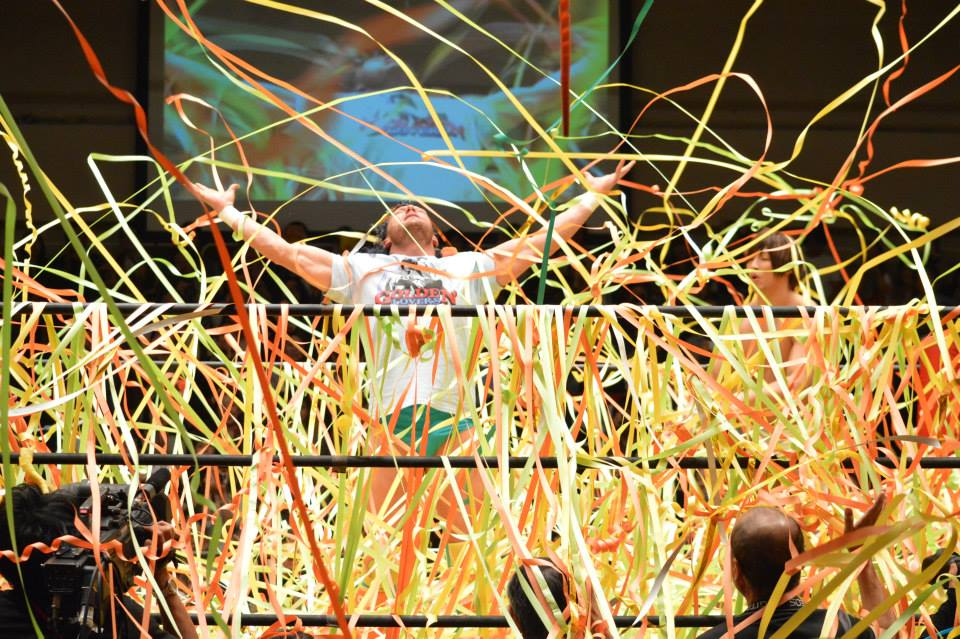 Wrestling is not: real, ballet, sports or entertainment

Professional wrestling is fake. Let's get that out of the way.

People may tell you that it used to be real, or we used to think it was real. That it was the 1984 TV news expose, where a former wrestler taught a tiny journalist to throw him around, or the 1996 Madison Square Garden Curtain Call, where the performers broke character after a brutal fight to hug, that exposed the business. That it was real before the war – which war? Doesn't matter. It wasn't.

Matches have been called (wrestling argot for planned – not exactly choreographed but plotted ahead of time by the fighters and promoters) since 1880. And, at least since a 1932 New York Daily Mirror tell-all interview with former promoter, Jack Pfeffer, audiences have known that the matches were called.

The point of calling matches, of picking your winner ahead of time, is simple: keep your audience engaged. Set up a fighter they can hate (a heel) and one they can love (a baby face) and people will either be satisfied with a face winning or bitter about a loss – they want to see the revenge or the comeuppance or the turn, when the baby face becomes hateable, or vice versa. While wrestling is a spectacle of physicality, it's also one of psychology, of character work and the complex art of convincing an entire crowd of people to care about what you're doing. Of course it's fake – real life doesn't form itself so neatly into narratives.

You'll regularly hear commentators call out after a particularly brutal hit: "It's not ballet, folks!". It is, actually, a lot like ballet: it uses bodies to create a narrative; thus it requires an enormous amount of physical and emotional training, pain and dedication; it contributes to self monitoring and sometimes serious body dysmorphia in its participants; and tends to be a hyperbolic presentation of gender and gender politics. In some ways ballet is tougher – most wrestling matches are at least partially improvised; any improvisation in classical ballet is a failure. On the other hand, no ballet dancers are expected to maintain the storyline of the ballet off-stage.

The most illegal move of all time

This is the magic of wrestling: everyone knows that it's fake, and we still want to watch it, we want to believe the kayfabe – the term passed down from carny days for the storylines of fights. We're upset when people poke holes in the kayfabe of wrestling – the point is not to be real! The point of wrestling is to make itself watchable. In finding what is most likely to sell seats or views, the malleability of the art form allows it to respond directly, sometimes in real time, to the audience's wants and needs. This gives pro wrestling an unmatched insight into the collective unconscious of society.

It's not a sport. When other high level athletes admit to match fixing or personal involvement in the downfall of an opponent it's a scandal; in wrestling it's expected. Wrestling has a lot of the tropes of sport – nominal rules, time limits, referees and commentators – but it is a performance, each of these elements playing their own roles in the narrative of a match.

There is a truth to it, though. Firstly, while the outcomes are agreed upon, the fighting is mostly real. Marina Abramovic once said that while theatre is fake, performance is real: the wounds are real, the pain is real, the injuries that last the rest of the performers' lives are real. People have died in the ring, died as a result of what happened during their careers.

This is important: punches are pulled, hurt is exaggerated, risk is mitigated – but real. Should this still be allowed? A real risk in a fake show? It must be – like other sports, it's best when people push themselves, perform beyond the normal limits of human ability. If there was less risk, it would be a less engaging performance.

More than that, the best, most remembered stories of wrestling are frequently based in reality. It's not that wrestlers should expose their personal lives – many successful wrestlers stay in character and keep their character removed from their real life. Most audiences over the age of eight know that these are performers – and these days, with multiple channels of social media, we know more and more about them. But the blurring of the lines between performance and lived experience is fascinating, and draws crowds who now need to know exactly what is real and what is true. The integration of the real concerns of these real people into the scripted fight, into the context of a match, creates a more engaged audience.

Here's an example: Daniel Bryan.

That's a work name – work meaning here part of kayfabe, part of the story the performers want to show you.

His shoot (wrestling argot for real) name is Bryan Danielson. He was a champion of the independent North American scene for years, and signed with WWE in 2009. He's not a traditional WWE champion – small, beardy, sincere, positive – not a showboater, more about genuinely impressive fights than self promotion. He doesn't do the big character work of some of his contemporaries, remains a straight man in a class of clowns.

Viewers love him for being a real guy, a real fighter, not the prancing egomaniac so many wrestling heros turned out to be. In the early days of the Obama administration, Daniel Bryan and his motto of "Yes! Yes! Yes!" offered the optimistic alternative that wrestling fans had been craving.

But remember: the risk is real. Since joining WWE, he's spent a total of five years not working in the ring due to health issues: surgeries, seizures, brain lesions.

In 2017, there was a live interview with a longtime rival of his, the Miz (shoot name: Michael Mizanin). The interview was a worked shoot – which means they decided to include shoot (real) details in the work (the story of the match). I use this language because real and fake are not relevant categories in wrestling. Worked shoots, sometimes called pipe bombs – when a wrestler goes off script and unexpectedly exposes something really impactful – are some of the most exciting, terrible and complex forms of wrestling content.

The Miz – an absolute showboater with limited ring skills who got his start on reality TV – ripped Bryan apart for taking risks in the ring, for exposing himself to injury, for focusing so much on "real fighting" instead of showmanship that, the Miz contended, he abandoned his audience. Bryan couldn't get out a full sentence. The Miz, for a moment, imitated a stutter during his delivery – Bryan had overcome a stutter in his youth. Did Bryan know the Miz was going to do this? Watching the clip, it seems unlikely – he's so visibly distressed. These men work together, but this was not entirely a work. It was cruel, and sharpened Bryan's desire to return, sharpened the audience's hunger to see him succeed. Is watching two people hurt each other entertainment?

At Bryan's return to wrestling in 2018 at Wrestlemania, WWE's biggest event of the year, he was met with an ecstatic reception. He clutched his head once, twice, during the fight, which may or may not have been manipulative, but he won. He's back. Everyone shouted "Yes!"

Is this in poor taste? To play up a real and life threatening condition in a patently constructed context, with cameras pointed and everyone in costume? Would it be worse taste to not mention the risk these performers take every time they step in the ring? Taste has almost never been a consideration of wrestling – audiences seeking a tasteful handling of any given issue would be better served looking elsewhere. What wrestling offers is catharsis. Wrestling gives us the satisfaction of someone overcoming challenges in the most literal way possible – giving the challenge body, and pinning that body to the ground.

Wrestling appeals precisely because it is, as Barthes described, a spectacle of excess – the luxury of abundance, the absence of subtlety. Too much strength, too much emotion. In an age of virtuality, wrestling is unavoidably physical and material. Like all other media, you can purchase (or pirate) a recording of a match, but there's no easy digital capture of the immediacy of wrestling: the sweating, half clothed performers who enter through the crowd, who can and do catch the eye or hand of an audience member, to encourage them to participate consistently in a way no other artform does. Imagine a sing along where you were expected to boo. Imagine an international superstar falling into your arms at a five pound show. Imagine knowing the outcome of a contest and caring all the more. You can't misunderstand a wrestling match. You can't fail to be present for long.

Wrestling is not real, ballet, sports or entertainment – it is spectacle, and it is art.

Wrestling is: haunted, timeless and utopian

Many forms of art are haunted. It seems there is no medium that can escape the critique that it's not what it used to be, that things were better back when. No wrestler can enter a ring without bringing with them the names of their trainers, their faction, their family, their promotion, because these things tell us how to feel about them.

Gorgeous George, AWA, 1949


The New Day, WWE, 2015
To what era does wrestling belong? It seems old fashioned, in many ways – to settle conflict with violence. Despite, or because of, this anachronology, wrestling's need to keep its audience consistently engaged makes it one of the most forward thinking forms of art, which is particularly interesting considering how much wrestling trades on nostalgia. Time is out of joint, is jumbled in wrestling – characters meet in the ring who are informed by pop culture old and new, by terrible cliches and family heritage. There's a sort of British Museum mess of stolen images and objects placed beside each other in the archaic context of a colosseum. Wrestlers need the cultural context of shared history to communicate with the audience in shorthand – so they'll name themselves and their moves after their forebears; gimmicks and promos will hearken back to other media, older means of production, to stereotypes that were out of date a generation ago. In the ring, age-old feuds are fed fresh young blood. Wrestling's mass appeal is a double edged blade which keeps it open to all comers and interesting for everyone who's seen this before.

However, wrestling is most interesting, most successful, when fighters are in a state of potentiality – the fading ace about to make a comeback, the ambitious challenger with everything to prove. Almost all crowning moments of wrestling – whenever we meet a new champ – will include a hint of the next fight. In its simplest form, the utopia of wrestling lies in the idea that you ain't seen nothing yet – that no matter the match you just saw, the next one will be bigger, better, more.

Wrestling is certainly repetitive, but that doesn't make it formulaic so much as ritualised, both the performance and reception incantatory at times, a little like an ecstatic mass when everyone in the room knows exactly what they should be doing. It is, in this sense, jubilant the way other rituals may be mordant or melancholy – the message of every wrestling match is that while it hurts, we can survive; if we are not triumphant now, we will be soon. No performer never wins, but all are haunted by winning – they are no longer winning, or not yet winning.

In that it is haunted, wrestling is always informed by its past and it is precisely because of this nostalgic orientation that many of the best performers are able to look to a new model of the future; to emotionally articulate a positive vision of the world which is better than the one we have. At a moment in history when it seems unrealistic to conceive of a future at all, let alone one that is different to our present, wrestling offers fascinating fantasies of a positive future and, sometimes, transforms the present itself.

Penta El Zero Miedo and a young fan, 2017
I'll focus in this series on performers who portray – both incidentally and intentionally – specifically utopian visions of a future: one that is not white, not male, not heterosexual, not subject to the narrative of empire. One that is better than what we've had, unimagined before now.

---